DANIEL CARPENTER MUSTANG RESTORATION PARTS
A wholesale company.

Daniel Carpenter grew up around the antique Ford reproduction market in his Dad's business, Dennis Carpenter Ford Reproductions. He has always had a passion for Ford cars, especially Mustangs. His first car was a 1965 Mustang Convertible, which he still has today. His second car was a 1970 Mach I.
In his last year of high school, he bought a 1966 Shelby GT-350 (#280). Daniel returned home from college to start Daniel Carpenter Mustang Restoration Parts, a company selling wholesale parts to the Mustang market.
Thank you for shopping and buying Daniel Carpenter Mustang Restorations Parts.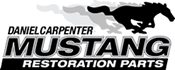 OUR CORE VALUES
Customer Satisfaction | Be Responsible | Work Efficiently | Improve and Innovate | Respect, Honesty, and Integrity.
At Daniel Carpenter Mustang Restoration Parts we have not only instituted a set of core values for our employees but extend those same values to our customers and relationships with our partners and suppliers. As a company, we can only exist through the honest and respectful relationships that we have with each other as employees and our customers. One of the most important core values that we practice as a company is Respect, Honesty, and Integrity.
We believe the best course of action, in even the most trying of times, is to not waiver from our core values. This starts with great employees, regardless of race, nationality, belief, gender, orientation, disability, or political affiliation. As a result, we employ amazing people from all walks of life so that we can offer amazing products and services to our amazing customers.
Our stance has and will continue to be, one of treating everyone equally and fairly. We do this not because of any social trend, but because it is what we believe should be done to have a fair and just world to live in.
OUR MISSION STATEMENT
Long-term stability, growth, and success are dependent upon investing in our employees and meeting our customer needs.
MANUFACTURING
Daniel Carpenter and making 1979-93 Scuff Plates